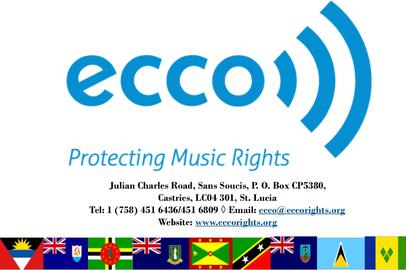 The Eastern Caribbean Collective Organisation for Music Rights (ECCO) Inc. is a society of writers & publishers of music. Through reciprocal agreements with Collective Management Organisations (CMOs), throughout the world (also called 'societies'), ECCO represents and can license virtually the whole worldwide repertoire of copyright music for public performance, broadcast, cable transmission, online and mobile use. In addition ECCO will also license mechanical reproduction on behalf of writer and publisher members and is planning to perform similar tasks for the related rights of producers and performers of sound recordings with respect to the right of equitable remuneration when recordings are used in broadcasts and/or public performances directly or indirectly.
In answering the call for representation from creators in the other Eastern Caribbean countries and to address: (a) changing macro-economic environment, (b) changes in the regional music industry and (c) to ensure competitiveness and sustainability of the Caribbean Copyright Link (CCL) now the Association of Caribbean Copyright Societies (ACCS), - CCL presented the Performing Right Society (PRS) with a business case calling for the release of the Eastern Caribbean Territories to a single entity. PRS agreed to transfer the rights for the administration of the international repertoire within the Eastern Caribbean to HMS (the only established society existing in the Eastern Caribbean) with effect from 1st January 2009.
ECCO was originally known as the Hewanorra Musical Society (HMS) Inc. which was the national society for St. Lucia. Following a series of consultation with creators throughout the region and with the agreement of HMS members in St. Lucia, the name of the society was changed to the Eastern Caribbean Collective Organisation for Music Rights (ECCO) Inc., reflecting its regional make-up. Similarly, the composition of the HMS Board was changed to ensure broader representation from Eastern Caribbean States. In addition, the mandate of the society was increased to include the administration of rights for performers and producers of sound recordings alongside that of writers and publishers.
ECCO collects fees by issuing licences to music users granting them permission and authority to the restrictive acts as defined in the Copyright Acts of the region, including; public performances, broadcasting, communication to the public, reproduction etc. ECCO is a non-profit making organisation. Having recovered its running costs it pays the remaining money collected to the members identified on logs supplied by the radio stations and data collected from major events. ECCO also collects royalties from around the world for its members through reciprocal agreements with other CMO's overseas. Member states of ECCO consist of: Anguilla, Antigua & Barbuda, British Virgin Isles, Commonwealth of Dominica, Grenada, Montserrat, St Kitts & Nevis, Saint Lucia and St. Vincent and the Grenadines.