This week the Association of Caribbean Copyright Societies (ACCS) in partnership with Barbados-based Copyright Society of Composers, Authors and Publishers Incorporated (COSCAP) present the Fundamentals of the Business of Music Seminar.
The Seminar, which will initially be piloted in Barbados, will run from Wednesday June 29th to Friday July 1st, at the Courtyard Marriott Hotel; and forms part of ACCS' Business of Music Seminar Series—financed with support from the Caribbean Development Bank.
Free online participation is open to members of the Eastern Caribbean Collective Organization for Music Rights (ECCO) Inc, and will be facilitated via live streaming on COSCAP's website: www.coscap.org.
The main objective of this music education seminar is to assist participants develop a better understanding of the essentials of starting and managing a business in today's music sector.
Key presenters for this three-day event are Mr Chris Cooke, Author of "Dissecting the Digital Dollar" and Ms. Sari Delmar, Brand Specialist and CEO of AB Company. Meanwhile the Barbados Investment & Development Corporation (BIDC) will also conduct a half-day music lab, aimed at helping participants develop and articulate basic business plans utilizing approaches learned from the seminar.
Essentially, the Fundamentals of the Business of Music Seminar will run from 9am to 4pm each day, addressing the following topics: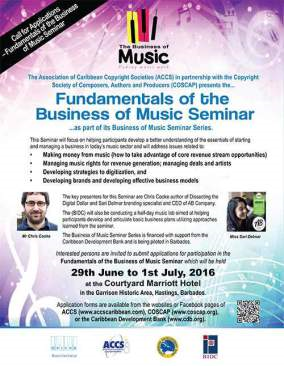 DAY ONE – Wednesday June 29, 2016
Making Money from Music (How to Take Advantage of Core Revenue Stream Opportunities)
Managing Music Rights for Revenue Generation
Intro to Deals & Artist Management
DAY TWO – Thursday June 30, 2016
The Digital Market (Developing Strategies to Digitalization)
Evolving Your Business
Women in Music
DAY THREE – July 1st, 2016
Developing your Brand (Part One): Strategies for Developing a Good Brand
Developing your Brand (Part Two): Marketing Your Brand & Using Online Marketing Channels
ECCO urges members and music professionals to take advantage of this significant music education seminar, to better equip themselves with the knowledge and tools to succeed in today's music industry.
The Association of Caribbean Copyrights Societies (ACCS) was founded in 2000, and serves as a Regional Centre, whose task it is to accurately monitor and maintain a centralized Caribbean database, ensuring acceptable data standards for all incoming and exported information on the works stored within this database. ACCS also acts as the communications "link" between the Caribbean copyright societies, facilitating regional integration and concentrated efforts in one common direction. ACCS can be viewed as the "umbrella" organisation which encompasses the author societies of the region, presenting one common voice on issues relating to Intellectual property and authors' rights. Above all, the principal aim of Association of Caribbean Copyright Societies is to place regional authors, composers and publishers in a better position to collect royalties from international markets. The Founding members of ACCS are COSCAP (Copyright Society of Composers, Authors & Publishers Inc.) of Barbados, COTT (Copyright Music Organisation of Trinidad & Tobago), ECCO (Eastern Caribbean Collective Organisation for Music Rights) of the OECS, and JACAP (Jamaican Association of Composers, Authors & Publishers Ltd).